Our expertise
Useful documents
Our solutions
Ingots and slabs
Cut pieces
Formed pieces
Welded elements for jack-up rigs
Clad plates for linepipes
Prefabricated plates
Our expertise
EAF route with careful selection of raw materials to produce high purity steel.
Fine tuned secondary metallurgy with vacuum and degassing processes (AOD, VOD) to achieve high cleanliness steels.
Heavy and wide quarto plates produced by continuous casting or bottom poured ingot with a comprehensive dimensional range.
A dedicated world-class research and development center providing technical support and developing new products to meet market needs
A global sales network guaranteeing single point of contact in your geographical area and being your representative with our mills.
A web-based customer service providing access to order confirmations, invoices, order status and mill test certificates.
Our solutions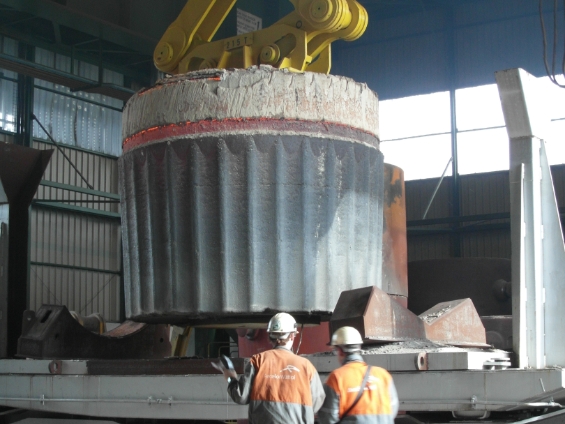 Ingots and slabs
Advantages
With historical expertise in the supply of heavy ingots for nuclear forgings, Industeel supplies commercial ingots for special forgings over a wide range of mission-critical applications in offshore wind energy, equipment in oil & gas and chemical process industries, marine systems and yellow goods;
Available ingot types include round smooth, round corrugated, polygonal, hollow and flat ingots in dimensions from 500mm to 3500mm diameter;
Steel grades range from carbon steel to low alloy steel, including 42CD4, and also special CrMoV and 9Cr grades as well as conventional and duplex/superduplex stainless steels;
Slabs are also available in 225mm and 355mm thickness in both stainless and carbon grades.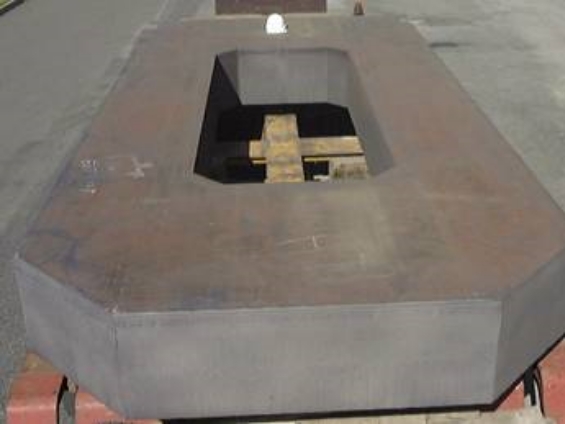 Cut pieces
Advantages
Capability to flame-cut extra-heavy plates up to 80T and 800mm thickness in a wide range of carbon and low alloy steels;
Precision flame-cutting, or Flame-Cut Machining (FCM) permits to avoid machining on non-functional surfaces;
Technical support in design optimisation, including machining of the final piece, allowing cost savings in both transport and subcontracting.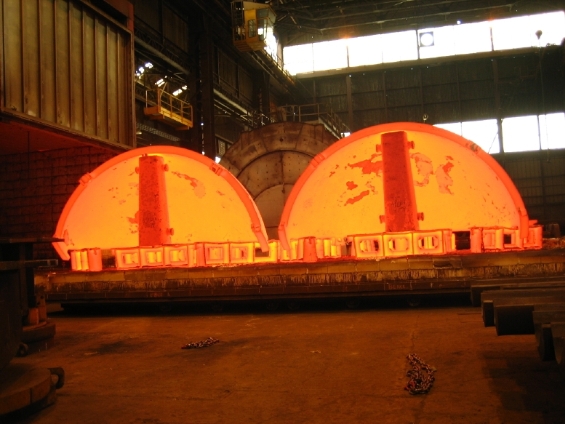 Formed pieces
Advantages
Several years of experience in the production of tailor-made complex shapes compliant with the most stringent material specifications for oil & gas offshore equipment, refining and petrochemicals, nuclear industry or defense & security.
A wide range of formed products: elliptical or hemispherical heads, cones, half shells, chords for jack-up legs or any other complex shape.
Unique forming technology of two-piece hemispherial heads allowing the production of very-large diameter heads, well suited for heavy-wall pressure vessels in Vanadium-modified material (CrMoV).
Technical support in design optimization and review of material specification with the assistance of our materials experts and R&D.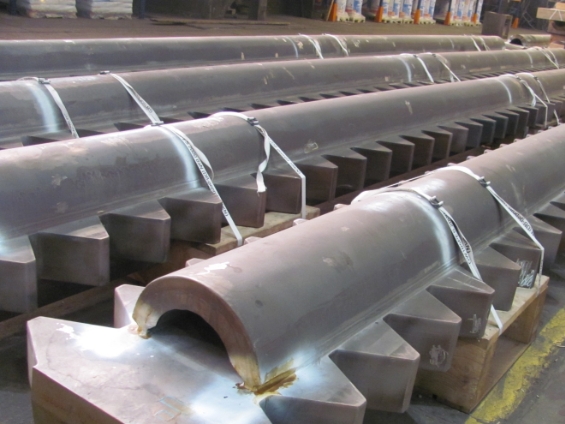 Welded elements for jack-up rigs
Advantages
SuperElso 690CR steel plates homologated by ABS and DNV-GL up to 10" (254mm) plate thickness, with excellent toughness and CTOD properties at low temperatures;
Ability to flame-cut the teeth of rack plates and to hot-form chords for XXL jack-ups;
Extensive track record on project management including supply of welded rack and chord jack-up components up to 12m in length.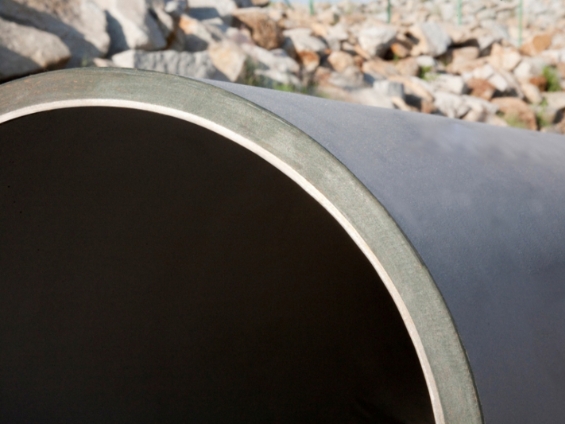 Clad plates for linepipes
Advantages
Delivered in quenched and tempered condition, with ultra clean steels and homogeneous structure, dedicated to (sour) Oil & Gas transportation.
Solid plates and backer steels for clad plates in accordance with API 5L or DNV Specification (chemistry and properties).
Narrow tolerances (dimensions, flatness) and consistent properties (strength, DWTT, CTOD, HIC) guaranteed thanks to recent investment in our production line.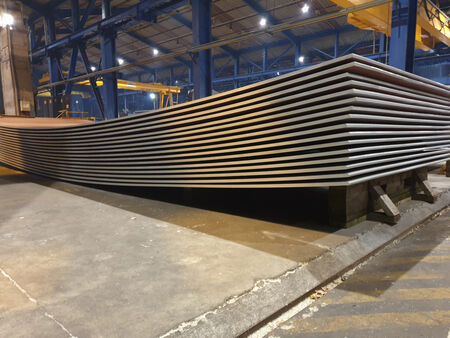 Prefabricated plates
Advantages
Prefabrication (bending, rolling, bevelling and cutting) of stainless and 9%Ni steel plates, ready for on-site tank construction;
Wide, long and heavy plates allowing for optimal tank design reducing on-site welding;
Extensive project management experience in supplying cryogenic tank parts.